Process Water Chillers
---

Introduction
Chilled water requirement is the necessity of many processes involved in Industries. Sunbeam Water Chillers are capable of working in harsh and hostile factory environment.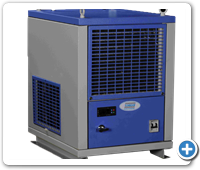 Applications
Food Process Industry
Chemical Industry
Plastic Industry
Electronic Medical Equipments
Foundries
Laboratory Equipments
Wire Cutting / Spark Erosion Machines
Laser Cutting / Marking Machines
X - Ray Diffraction Spectrometer
Induction Hardening Machine
High Frequency Welding Machine
Hydraulic Press
Pressure Die Casting
Furnaces
Injection Moulding Machine
Plasma Spray Machines
Chemical Process Plants
Dye and Pigment Manufacturing
Pharmaceutical Industry
Electroplating Industry
Anodizing Plants
Food and Beverage Industry


Choice of Evaporators
STAINLESS STEEL TUBE COIL IN TANK :
Evaporator made of stainless steel tube coil is dipped in stainless steel tank. Stainless steel tube provides better life.
BRAZED PLATE EVAPORATOR :
Brazed Plate Evaporator is very compact and very efficient, due to which size and weight of the water chiller reduces.
SHELL and TUBE TYPE :
Evaporate is compact size & applicable for cutting oil. The shell can be removed to clean evaporator coil


Choice of Condensers
AIR COOLED :
This is made up of aluminium fins, with inner groove copper tubes.
WATER COOLED :
SUNBEAM uses tube-in-tube type of water cooled condensers. This is used when ambient temperature is in the range of 55° C or more or when the environment is very dusty and corrosive.


Features
Body is made up of Galvanized Steel.
Powder Coated / Polyurethane paint.
2 Set Point digital temperature controller.
Electronic water level indicator.
Anti freeze thermostat and water flow switches.
HP / LP switches for safety of compressors.
Custom built machine enquiries are also entertained.
100% Functionally tested.
Units with energy efficient scroll compressors are available on request.


Quality Control
All components are thoroughly tested and inspected before assembly and due importance is given to internal cleanliness of Evaporators, Condensers, Copper Tubes.



Capacity Range

580 Watts to 1,40,000 Watts

or 500 Kcal/hr to 1,20,000 Kcal/hr

2000 BTU/hr to 4,80,000 BTU/hr