HVAC for Shelter
---

Introduction
Specially designed HVAC for shelter, suitable for various climate zones and in various industries.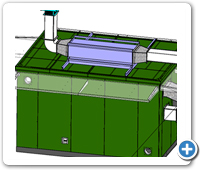 Applications
Petrochemical industries
Various Power plants
Cement Plant
Steel mill shop


Features
Body is made up of Galvanized steel or Stainless steel.
Two set point digital temperature controller.
Closed loop design, hence hostile ambient air is sealed out of electronic enclosure.
Cabinet air is dehumidified.
Powder coating / polyurethane paint.
Cabinet Air conditioners for outdoor applications are available.
Digital display of cabinet temperature and high temperature alarm.
100 % functionally tested.
Top quality ball bearing motors result in reliable service.
Custom built machine enquiries are also entertained.
Special arrangement for fresh Air intake.
Special Arrangement for duct with manual and Automatic operating dampers
Special heating arrangement in HVAC.