Panel Air Conditioners
---

Introduction
Most electronic cabinets of electronic control systems generate substantial amount of heat during operations. More problems occur when such electronic cabinets are placed in dirty, humid and hot factory shop floor, rather than in clean room.

SUNBEAM PANEL AIR CONDITIONERS protect the electronic components of electronic cabinets against dust, humidity and heat and assure trouble free operations of costly equipments.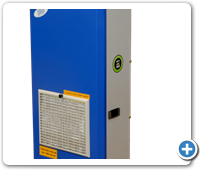 Applications
CNC Machine Tools
Robotics
Control Panel
Laboratory Instruments
Automation Equipment
Radars
Textile Machinery
Food Processing Industry
Communication equipment


Choice of Condensers
SUNBEAM PANEL AIR CONDITIONERS are available with following types of Condensers :
AIR COOLED :
This is made up of aluminum fins, with inner groove copper tubes.
WATER COOLED :
SUNBEAM uses tube-in-tube type of water cooled condensers. This is used when ambient temperature is in the range of 55°C or more or when the environment is very dusty and corrosive.


Types of Mounting Available in Panel Air Conditioners
Side Mounting Type
Stand Alone Type
Roof Placing Type


Features
Body is made up of Galvanized steel.
Two set point digital temperature controller.
Closed loop design, hence hostile ambient air is sealed out of electronic enclosure.
Cabinet air is dehumidified.
Powder coating / polyurethane paint.
Cabinet Air conditioners for outdoor applications are available.
Digital display of cabinet temperature and high temperature alarm.
100 % functionally tested.
Top quality ball bearing motors result in reliable service.
Custom built machine enquiries are also entertained.


Quality Control
All components are thoroughly tested and inspected before assembly and due importance is given to internal cleanliness of Evaporators, Condensers, Copper Tube, etc. All machines are tested on specially designed Test Rig at low and full load before despatch.


Capacity Range
250 Watts to 10,500 Watts

215 K. Call hr to 9100 K Call hr 850 BTU I hr