Severe Duty Air conditioner
---

Introduction
During operations, large amount of heat is transfered into Cabins / E-Rooms / Shavel, through sheet metal & glass. More problems occures when such cabines / E-Rooms / Shavels are placed in dusty, corrosive atmosphere & hot area.

SUNBEAM SEVERE DUTY AIR CONDITIONERS give comfort to operator and also protect the electronic components of cabin/E-room/shovel against dust, corrosion and heat.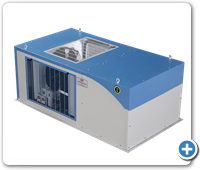 Applications
Steel Melting Shop
Foundry
Coke Oven Facilities
Panels On Bridge Cranes
Cement Plants
Rolling Plants
Paper Mills
Mining Equipment
Aluminum plant


Types of Mounting Available in Severe Duty Air Conditioner
Split Type

Side Mounting

(Stand Alone)

Top Mounting

(Roof placing)


Features
Heavy duty metal construction with GI /SS panels and subsequent epoxy coating.
High Ambient Temperature range 45°C to 90 °C
Closed loop design, hence hostile ambient air is sealed out of electronic enclosure.
Digital temperature controller.
Powder coating / polyurethane paint.
High Ambient Air conditioners for outdoor applications are available.
Digital display of cabinet temperature and high temperature alarm.
100 % functionally tested.
Top quality ball bearing motors result in reliable service at high ambient temperature
Custom built machine enquiries are also entertained.
Special arrangement in Air Conditioner for low ambient conditions.


Quality Control
All components are thoroughly tested and inspected before assembly and due importance is given to internal cleanliness of Evaporators, Condensers, Copper Tube, etc. All machines are tested on specially designed Test Rig at low and full load before dispatch.


Capacity Range
0.5 KW to 50 KW

430 Kcal/hr to 43000 Kcal/hr

1714 BTU/Hr to 17500 BTU/hr